Customer Relationship Management (CRM) is the process of managing and using detailed information about individual customers at each customer's touch point.
"Great CRM enables your team members to provide excellent real time customer service through the effective use of individual account info.        Based on what they know about each valued customer, your team can customize marketing offers, service actions, and positive communications.   CRM is simply the major driver for company's profitability and building up of the customer base", said Phillip Kotler the professor of marketing at Northwestern University.
In a company or organization, CRM can span across team or departments that include Marketing, Sales, Service, and Finance.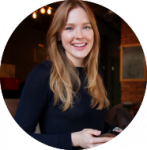 In Marketing, CRM involves communicating brands via customer's preferred media, understanding customer's feedbacks on 4P (Product, Price, Place, Promotion) and voice of customers (VoC) and may involve tools such as Loyalty Point that encourages customer to repeat buying again.
In Sales, CRM means properly taking actions: when to contact customers, what customer needs, what to say and what not to say, what values to offer, and who can influence the purchasing decision.    Successful sales team often use tools such as CRM software, also known as Sales Force Management software, to plan, update, remind, and manage these actions.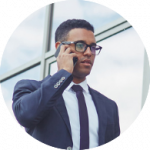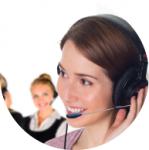 In Services, CRM serves as tools that ensure quality of services being provided to the customers.   In Call Center or in Service Center, customers expect services to be fast responded and effectively fulfilled, with good hospitality.     And in Field Services or Technical Services, customers expect that service jobs to be fulfilled through quality control procedure.
In Finance, CRM helps to strengthen commerce where customer will make the payment upon collection staff calling them to collect the payment or where customer already made the payment but needs afterward services such as getting account statement or tax receipt.
Therefore, CRM assures that customer facing team in the company or organization can acquire customers, can retain the customers, and get long term business throughout customer's lifetime.     For a business to perform well, Sales, Service, and Marketing needs to work and collaborate seamlessly on a single customer database.     They work toward two common goals: Increase Revenue and Customer Satisfaction.

From user's surveys, top benefits for CRM Application are:
1. Office team, field sales team, and field service team can access customer records and make an informed decision (80%)
2. Conveniently collect data while traveling to visit customers (70%)
3. Effective communication between field staff and back-office staff in HQ (40%)
**source: Aberdeen Research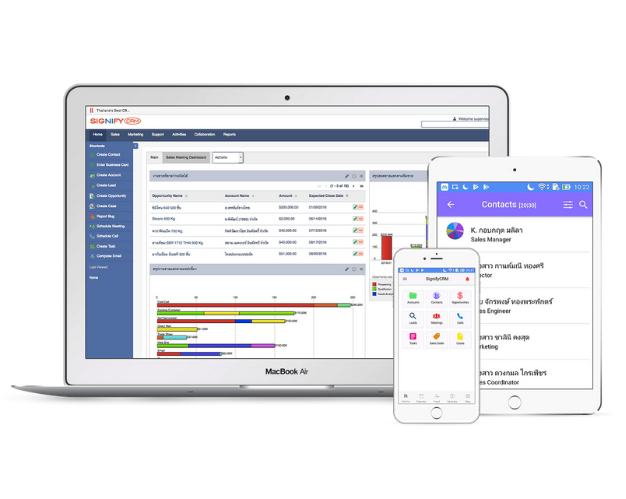 SignifyCRM is Cloud-Based CRM Web Application that customer facing team members can use from any where any time.
Team members find it essential for understanding customer and collaborating with other members to achieve day-to-day assignments.

Managers find it resourceful for providing business reports and workflow automation.