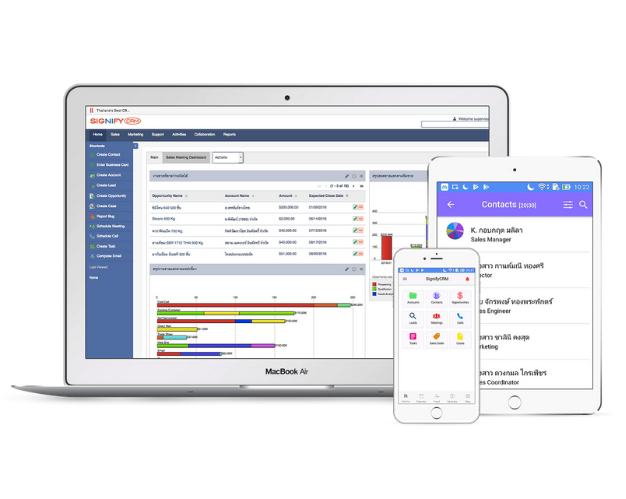 Get 360-Degree Customer View
Conveniently see customer with history of contacts, sales, services, marketing offers – Online!    No post-it notes.  No excel files.
Win customer's satisfaction faster than ever
With customer history available to you, you know what to say, what to offer so that customer will be promptly satisfied.
Increase work productivity
Get things done in the way that you have never been able to do before, with depth of customer understanding, with list of what to achieve, and with workflow automation that helps do more work with less time.
Solution for quality management
Can support your team's quality management with PDCA (Plan > Do > Check > Act)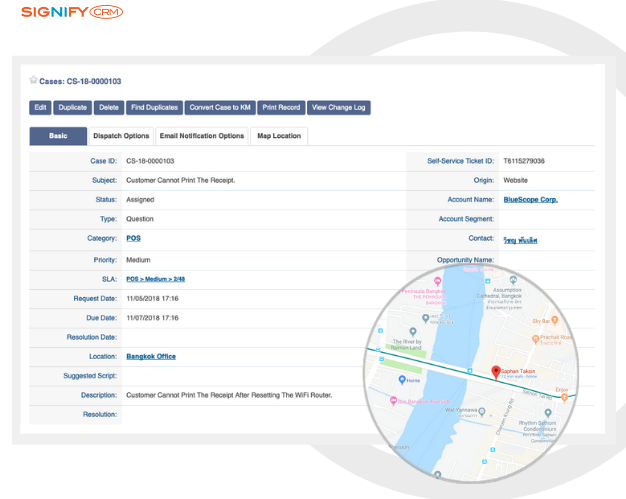 Customer Contact Management for All Channels

To serve customer what the customer wants, your team can quickly review contact history, past sales and service transactions, planned transactions, and any related information on the CRM software.
Your team can capture cases from customers through telephone, email, chat, as well as onsite visit with GPS location check-in.
The CRM software can help manage SLA (Service Level Agreement), notify your team for case assignment and remind them for upcoming due.
Increase Service Level through Mobility
Go to all the places you need and still available to serve your customers through Mobile CRM Applications.
Give confidence to your customers that you are there when they need you.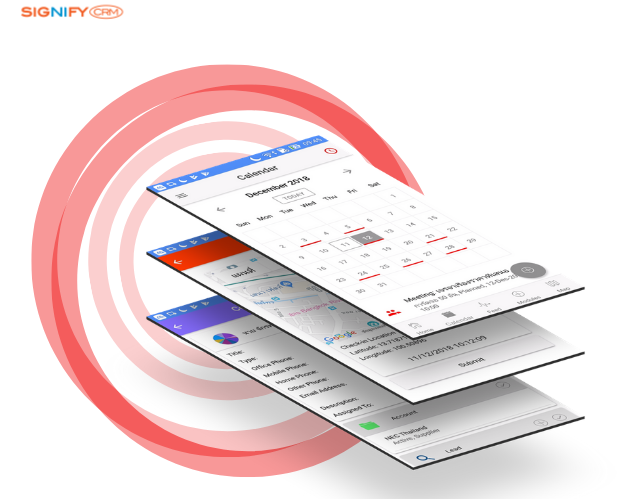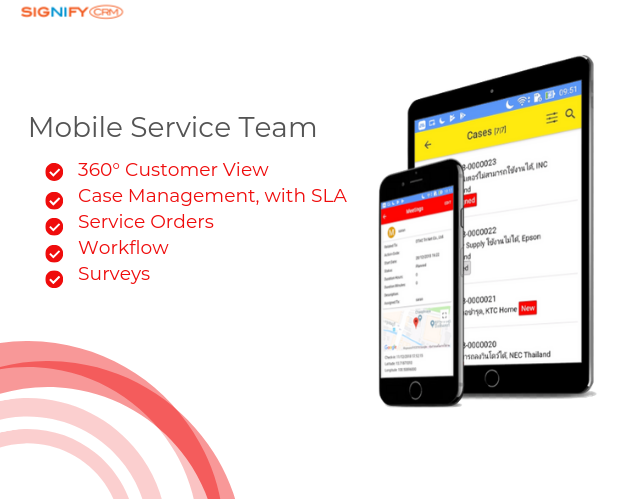 Online and Onsite Service Team

Call Center team can take a call from customer and easily dispatch a service crew to fulfill customer's request or to solve customer's problem.
CRM software can help notify customer upon the service crew being onsite and upon the request being fulfilled.
Social CRM
See feed of sales and service activities.   You know what goes on in the sales and CRM team.
Discuss, assign, and follow up on tasks through online systems.   No need to phone in.
Similar to application like Facebook, SignifyCRM software has automated reminders to notify you team member about important events and dates such as
o customer anniversary (service contract ending date)
o expected delivery dates
o service appointment dates
o customer's birthdays!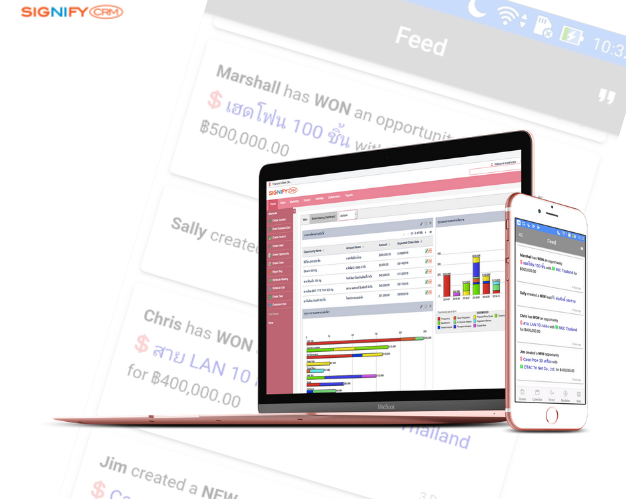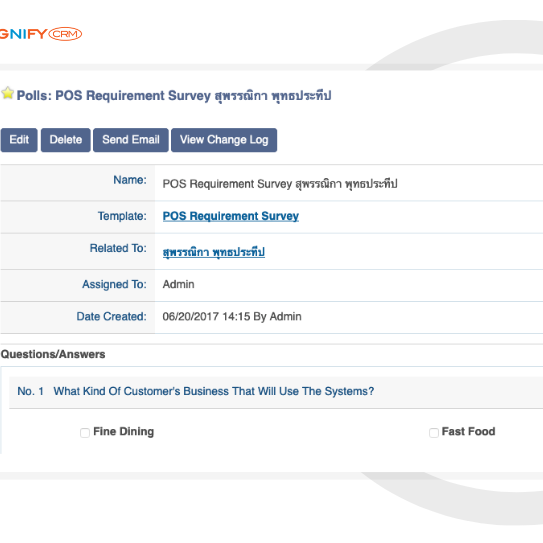 Online Surveys
You can create surveys for requirement or feedback (customer satisfaction) inside the CRM software and send the online surveys to customers via email.
Dashboards and Reports

Create dashboards and reports that you need in order to run your business.
o  Charts: Funnels, Pie, Vertical Bar, Horizontal Bar.
o  Comparison Charts.
o  Reports: Summary, Detail with Calculated fields.
o  Report scheduler to run at your desired time and send to emails.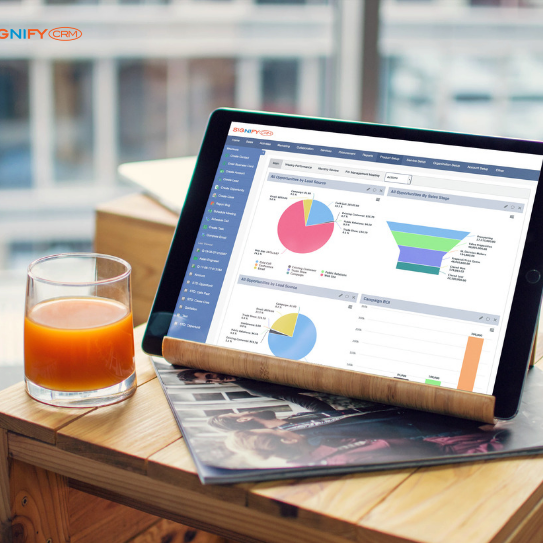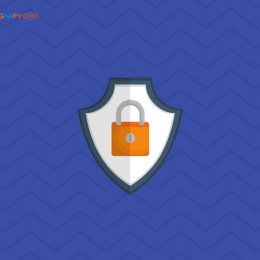 Managed User Security
Control who can access the information.    SignifyCRM can support you with different security measures from the basic to the most restricted.
o User Password
o Role Security
o Data Record Security
o Restricted Location
o Two-Factor Authentication
We can also help you integrate with your existing LDAP.   Discuss with Signify team for more information.
Flexible to Meet Your Needs

Users can adjust the screen layouts to fit their job and change color theme to fit their vibe.  Users can mark any data record as Favorite, so to access it quickly in My Favorite List.
The application is just very flexible.   In addition, users can use Ad-Hoc reports to create the reports the way they need.     Users can also use Workflow to remind and alert upon their important events.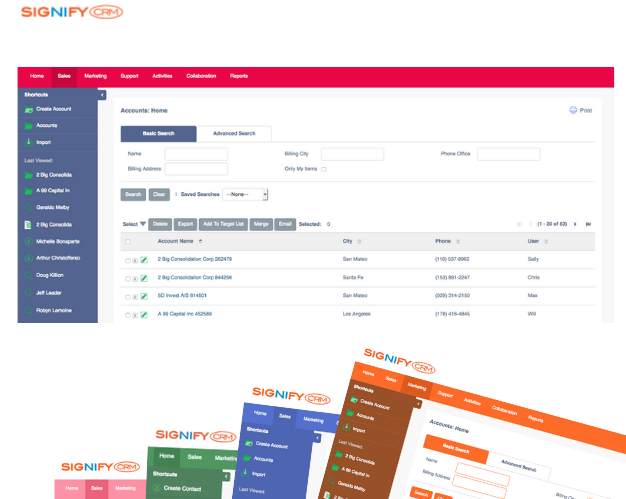 Getting good sales and services report becomes easy.

You can automate creating and distributing sales and service reports via email.    With all information in real time, the reports will be generated and sent to you at the time you specify, for example, on 8 PM on Friday or 9 AM on Monday.
Customer Relationship Management
Customer Relationship Management (CRM) is the process of managing and using detailed information about individual customers at each customer's touch point.
"Great CRM enables your team members to provide excellent real time customer service through the effective use of individual account info.        Based on what they know about each valued customer, your team can customize marketing offers, service actions, and positive communications.   CRM is simply the major driver for company's profitability and building up of the customer base",  said Phillip Kotler the professor of marketing at Northwestern University.
For a company to perform well, Sales, Service, and Marketing needs to work and collaborate seamlessly on a single customer database.     They work toward two common goals: Increase Revenue and Customer Satisfaction.
From user's surveys, top benefits for Web and Mobile CRM Application are:
1. Office  team, field sales team, and field service team can access customer records and make an informed decision (80%)
2. Conveniently collect data while traveling to visit customers (70%)
3. Effective communication between field staff and back-office staff in HQ (40%)
**source: Aberdeen Research
SignifyCRM users said they can achieve these improvement:
+37%
Increased revenue, from having best practice sales process and systems.
+50%
Increased work productivity, from having single customer view, real time collaboration, workflow and report automation.
+48%
Increased precision in sales forecast, therefore better planning for production and customer delivery.
15-Minute Talk with our sales experts will give you the business improvement idea.

SignifyCRM for Customer Relationship Management


Customer Relationship Management software provide post-sales capabilities for sales and service team to ensure that customers have received the services as expected at any customer's touch-point.      Having CRM software is widely acknowledged as a crucial element for any organization that wants to develop "brand".
✓ Ensure that customers will get the quality of services as promised.
✓ Can effectively communicate, escalate, and get feedback from the customers.
✓ Provide self-service channels: Web Portal and Mobile App that customers can contact directly.
Solution Features:
Contact Management
o  Leads.
o  Customer Accounts with Profile, Segment, Special Privileges, Campaign Offers, and Past Sales and Service Transactions.
o  Contact Activity: Calls, Meetings, Emails, Photo, Onsite Check-In.
o  Team Calendar.
o  Contact Report – Day, Week, Month.
Case Management
o  Centralize customer cases and dispatch cases to service staff or service agent.
o  Track and manage response time and due date accordingly to Service Level Agreement (SLA).
o  Integrate with Call Center Systems.
o  Capture work log and resolution.
o  Knowledge Management (KM) module provides KM articles (product datasheet, service procedure, forms, FAQ, and how-to) that your team can share with customers via email.
o  API is available to connect with your company website or mobile application.
E-Surveys
Survey captures customer's feedback at each customer touch point.

o  User-Defined Survey Template.
o  Link surveys to Lead, Sales Order, Service Order, or Case.
o  Send survey links to customer via email.   Customer can click links to complete the online survey.