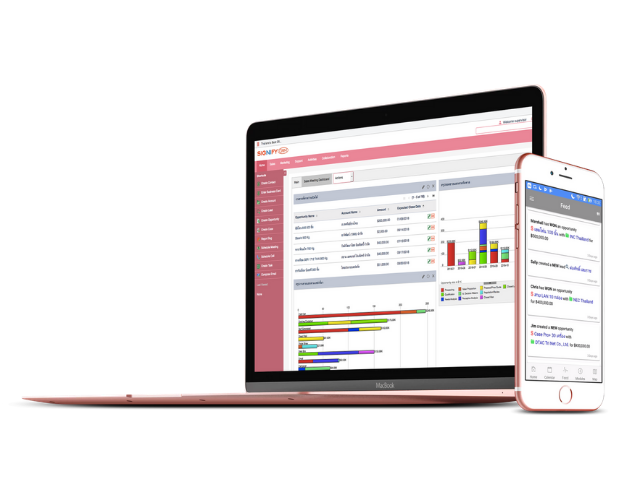 Measure Result of Marketing
Measure the interactions with prospects and customers.   Measure sales revenue as the result of email marketing and telesales activities.
Get Higher Lead Conversion Rate
Harness the work of your marketing team and sales team on the centralized systems.   Get the right sales lead that can turn into a buying customer.
Improvement in Marketing Automation

No Improvement

o Response is not targeted.
o Your customers feel like getting lot of spam emails from you…getting random calls from you….but you get little result.
Basic (1st Improvement)

o Start with grouping customers into segments.
o Your customers get specific emails or calls that they are having an interest.
Customer Oriented (2nd Improvement)
o Communicate with personalized message.
o Your customers recognize that you know them and you can offer what is right for them.

Customer Journey (3rd Improvement)

o Design "customer journey" or timeline to send message to your customers at the right time.
o Leverage automation tools such as workflow that auto-checks customer data and triggers message upon events, for example, upon customer anniversary.
Get Customer Insight from Multi-Department Business Reports

Your marketing team can gain customer insight from 360-degree customer views and automated business reports that get real time information from all sales and customer service touch points.
Marketing Automation is ideal for Lead Generation, Cross-Sell, Up-Sell, Relationship Marketing.
Marketing Automation helps to resolve the following problems:
Your marketing team has no tools to measure how many leads how many customers each marketing campaign has resulted.
Your marketing team has no 360-degree customer view, what were offered to customers, what worked vs. what didn't work.
Your customers often feel that they get email that has no interest to them (spam email).
Your sales team finds that your marketing team cannot help them narrow down their customer search or cannot provide good sales lead to them.
Your sales team is disconnected from your marketing team.    Sales team misses out many business opportunities.    Your organization cannot harness, cannot integrate marketing and sales together.
SignifyCRM users said they can achieve these improvement:
+37%
Increased revenue, from having best practice sales process and systems.
+50%
Increased work productivity, from having single customer view, real time collaboration, workflow and report automation.
+48%
Increased precision in sales forecast, therefore better planning for production and customer delivery.
15-Minute Talk with our sales experts will give you the business improvement idea.

SignifyCRM for Marketing Automation


Marketing Automation helps marketing team to engage customer groups more efficiently with the help from modernized automation tools.
Solution Features:
Campaign Management
o  Manage target lists.
o  Create unlimited target lists, by choosing from prospect and customer database, using your choice of data filters for example customer segment, province, history of purchases, history of interaction, etc.
o  Create message templates: email template, SMS template, telesales conversation script.
o  Measure return on investment (ROI).
o  Easily generate online survey for each lead, with lead scoring features.
o  Easily print postal label for mail merge.
Email Marketing
o  Automation of Personalized Email Marketing.
o  Email Template Builder Tools, Drag & Drop Style.
o  Track no. of reads, clicks, customer-registered.
o  Create unlimited online registration form or web form (Web-to-Lead).
o  Integration with Gmail, POP3, SMTP mail server, Mailchimp the mass email service provider.
Marketing Automation
o  Automate sending messages to leads and customers upon dates and events that influence the buying decision, helping you nurture and convert a lead into a buying customer.
o  Create workflows that help you lookup data and follow up the way you want, helping you cross-sell as well as up-sell easier.
o  Ad-Hoc report enables you to create unlimited number of reports for your marketing analytics.
Outbound Telesales
o  Manage outbound call lists for telesales agents or call center agents.
o  Agent call script, with lead scoring.
o  User can click from screen to call out, with automated call logging.
o  Generate post campaign follow-up reports.