In business-to-business (B2B) selling, customer is an organization where many persons makes a collective decision on which product to purchase.   The time taken for B2B selling varies but often long, from weeks to months, or "long sales cycle".
Establishing good sales process is critical for the success of B2B selling.      The process breaks down a super sales job into manageable tasks that any member in the sales team should be able to follow through, of which effectiveness can be monitored.   The chance of getting successful result is surely higher with sales process than without.   The process helps to drive for the result and to reduce loss/leak of business opportunities to competitors.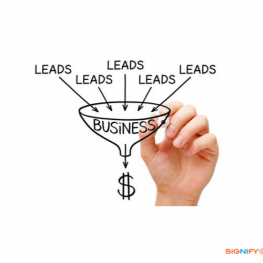 For the seller's perspective, seller can visualize sales performance using model "Sales Funnel" and "Sales Pipeline".   Both sales funnel and sales pipeline are popular tools being used in sales departments at leading organizations across the world.
Sales Funnel reflects sales activities to qualify incoming prospects and identify customers (that will buy from you).
For example, out of 100 prospects, 10 are customers that will buy.   How to make sure that you will get all 10, without leaking any of 10 to competitors?
Additionally, seller can visualize sales performance using model "Customer Journey".
Customer journey lays out the path customer takes to learn about the brand, evaluate products, purchase, feel about the buying experience, get after-sales services, feel about the service hospitality, and repeat the purchase.
In recent years, customer journey becomes one of the most talked-about topics when technology such as social media, CRM, Online Purchase, Online Services, Automated Notification (and future AI) helps customer to interact and have good customer experiences with the brand.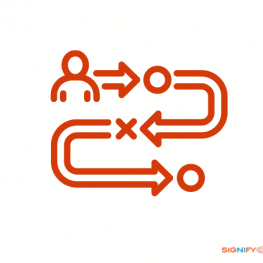 In the illustration of sales funnel, a prospect comes in from the top, goes through the funnel, and becomes a customer at the bottom.
When sales person interacts with prospects effectively, high potential prospects will turn into customers.     However, if the interaction is not effective, no prospect not even the high potential prospect would turn into a customer!
Sales Funnel can be defined into stages: Build Awareness, Convert, Engage & Qualify, Closed Won, and Closed Lost.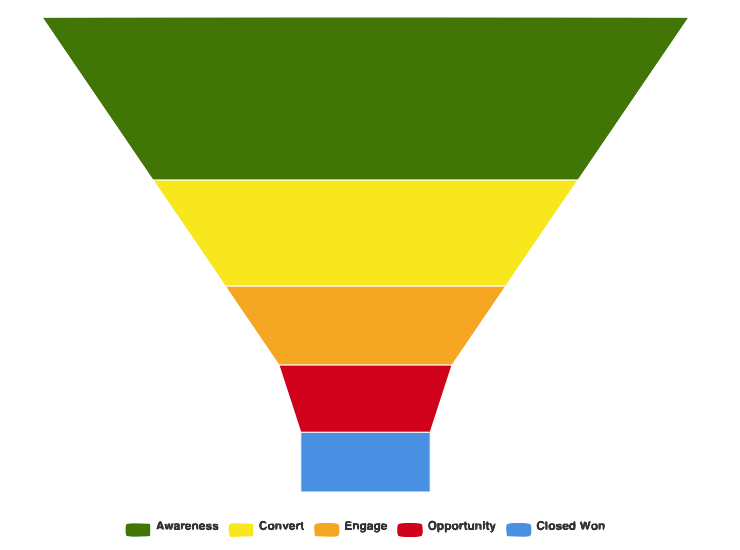 Build Awareness is the stage where contents are delivered to target groups, to raise awareness, build relationship, and encourage interaction between brand and the target groups.   The contents are provided through channels and activities including:
Website

Blog, Social Media

TV Ads, Signs, GoogleAds

Events

Trade show, showrooms
Convert is "Call for Action", for example, ask to sign up on Website, add friends on Social Media, or register as member to gain privileges.   The action makes seller know who the target is, as an individual.    Therefore, marketer can analyze what they need, what solutions can be offered and will become business opportunities.   Marketer can engage with individual targets by sending email campaigns or proceeding with telesales calls.
Engage & Qualify takes place when target finds a problem that needs to be solved, wish to solve it, and therefore initiate contact with your sales team.   At this stage, "Target" becomes "Lead" and seller should make attempts to understand his/her requirements and respond with solution offers.   It is very important that at any time during interacting via phone, email, or face-to-face meeting, the seller must demonstrate human characters that is trustful and is comfortable for lead to work with the seller.
It is normal that seller may not be able to convert all leads into customers, because some just have requirements beyond what the seller can offer.   What important is the seller must be able to find the lead with matching requirements and budget, ready to proceed with the purchase.
In very first conversations, seller should navigate and learn more about the customer, referred to as "Discovery Call".   In meetings with the customer, the seller should get information that reveals customer's requirements, pain points, and challenges.   With this information available, the seller would be able to make an offer that the customer could not resist.
Manage Opportunities is the stage when seller identifies the lead with having clear requirements, budget, and decisive timeline – therefore can convert the lead into a customer with prompt opportunity.   For B2B selling, often the customer may revise requirements, may make comparison with competitor's offers, and may negotiate until reaching the agreement.
Successful sellers are those that track sales opportunities, follow up closely, handle sales objection professionally – leaving no room for competitors to take the customer away.
In this stage, the essential tools is "Sales Pipeline" which has the following information:
Customer Information

Offered Products

Expected Sales Closure Date

Confident Level: for example, Cold, Warm, Hot

Sales Amount

Salesman (and sales team)
Closed Won Once seller closes the sales, it will start customer on-boarding that may include customer welcoming, scheduling for product delivery, scheduling for services, etc.
If seller cannot close the sales, the seller will determine whether the sales opportunity is still possible in the future.   For example, if customer does not have budget this year but will prepare budget next year, the seller can keep the customer in the follow-up list.
Lead Nurturing
If a lead lacks need or budget, cannot be converted into opportunity, the seller can nurture the lead by using CRM systems to periodically send marketing emails.
The marketing emails have click-through meter that checks lead's interest and with this information available, the sellers can navigate and eventually convert the lead into the customer that makes the purchase.
If seller does not use Sales Funnel and does not qualify leads, the seller might be busy but not get the satisfying result.   For example, with 100 leads, the seller would be occupied by 90, of which will never buy while 10 real customers wait for long and then go with the competitors.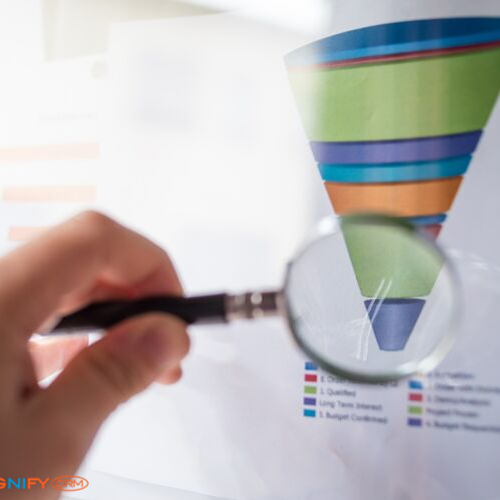 How to find the right customer
There are many techniques to qualify leads, to help you find the right customer.   One technique that has been widely used is BANT which stands for Budget Authority Need Time.
Budget.  Does the lead have budget or capable to buy the product?

Authority.   Is the contact person the one who makes decision or is influential in the decision making?

Need.   Does the lead have a clear problem to solve?   Can our offer resolve it?

Timing.   Does the lead set a time to make the purchase?   This means that buying will happen soon either with us or with competitor!
What is the difference between Sales Funnel and Sales Pipeline?
Sales Funnel is about getting the right customers.   Sales Funnel helps to qualify leads and identify the customers that will buy from you.
Sales Pipeline is about managing sales opportunities, making sure that sales manager can assist sales team to serve customers and win the business.
In general, seller should look at Sales Funnel on a daily basis.   The better the seller can qualify, the more customers the seller will close the sales with.
Sales Manager should look at Sales Pipeline to predict what's coming up, manage cash inflow, staffing manpower, production level, and inventory level.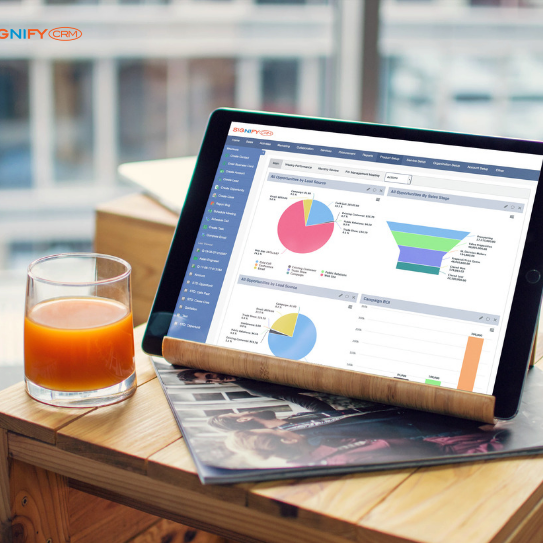 Success often starts with New Way of Doing
Manage sales team without Sales Funnel.   Your sales team may appear busy with calling, meeting, creating price quotations, but that still leaves you with no idea how many leads would eventually become customers that make the purchases.
Manage sales team without Sales Pipeline. Your sales department may have sales forecast that is far away from reality.   Your company may stock too much and end up with large inventory cost.
Manage sales team without opportunity information.   When asked about revenue forecast, your sales team may sum up price quotations being issued to customers (but some of these are requested by customers that have no real intention to buy…they just want to compare).   You may get the revenue forecast that is just too high to realize.
Manage sales team by looking at sales orders only.     When market changes, your sales department will not be agile enough to deal with that change.   Or worse if looking at financial statements from accounting department, you will use historical number that happened many months ago.   This will not help your sales department to compete.
Having CRM software systems is very important in the sales process.    CRM software comes with Sales Funnel and Sales Pipeline.   CRM is not just a customer database.
Sales Management and CRM software enables sales team with strong sales process, helping to qualify leads, manage customer interactions, ensure good customer experiences, track sales pipeline, and support your team with automated notifications of important events so that your sales team will not miss them.
Using the software increases accuracy and productivity and reduce waste of time and expense from misinformation and misunderstanding.   It reduces this by providing holistic view of customer information and day-to-day jobs, helping team member to focus on getting successful result.    Sales Management and CRM software comes with automated workflow, automated notification, and automated reports.
Without the software, sales productivity may run low without your notice and this will obstruct your business development.   In addition, hidden cost from wage, expense, re-working also builds upon your company.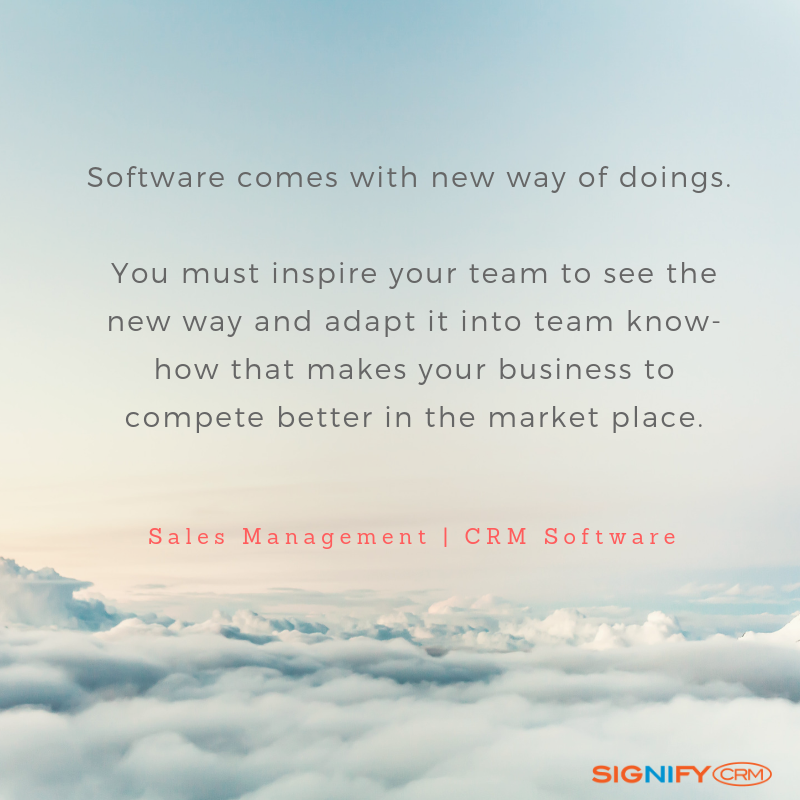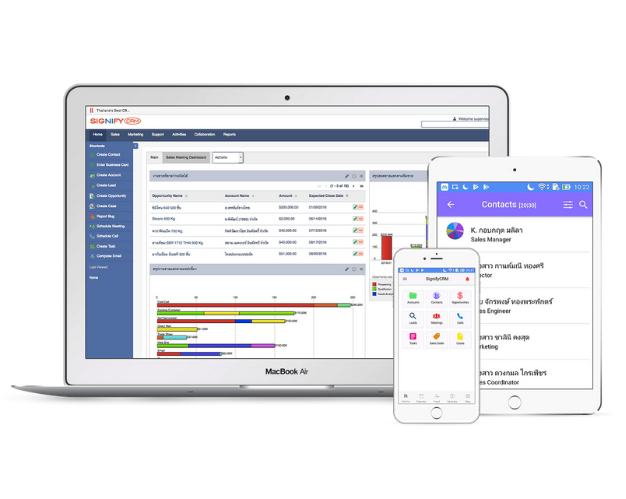 SignifyCRM is Cloud-Based Sales Management and CRM software application that empowers sales team to increase more sales and more customer satisfaction with:
Sales Funnel.

Sales Pipeline.

Customer Journey.